Below are just a few of the websites that I have worked on.
I have chosen a cross-section of websites of varying designs and purposes to give you a taste of just some of my past work.
Jococa Cats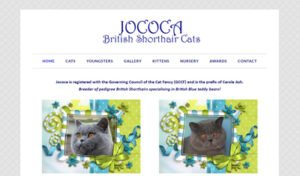 Jococa British Shorthair Cats are hobby breeders based in Maidenhead.
Carol and I worked really hard to make sure her site had everything she wanted and had the look and feel that she envisaged.
Visit Carol's website – Jococa Cats
---
Supurrnova Burmese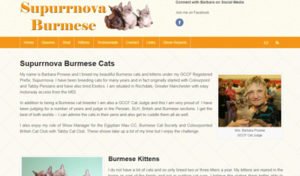 Supurrnova Burmese was built for Barbara Prowse who is a Burmese Cat breeder based in Manchester. A simple design that incorporates judges show reports, kitten updates, testimonials and news about her cats.
The site ticked all the boxes with Barbara and she was delighted.
Take a look at Barabara's website – Supurrnova Burmese
---
Athelstan Siamese
Athelstan Siamese is a website built for Pina Bruno-Grieve who when not breeding cats works as a graphic designer.
When tasked with building this website Pina asked for a website that could incorporate her own design work.We were able to oblige and designed a bespoke html website that was able to show both Pina's cats and design work.
See the combination of my web design skills and Pina's artistic contribution – Athelstan Siamese & Orientals
---
Siamese Cat Breeder
Siamese Cat Breeder is a blog built on the WordPress platform. The blog is all about Siamese cats and kittens, cat breeding and cat ownership. The design is search engine friendly and integrates a variety of multimedia making this an attractive and modern design which has quickly seen this become an award-winning blog.
Siamese Cat Breeder has over 10,000 unique visitors per month which was no doubt accelerated by the modern design and superb multimedia capabilities.
Check out the No 1 Siamese website – Siamese Cat Breeder
---
CattyLicious.com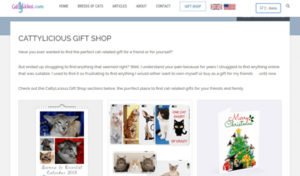 CattyLicious is a cat website, gift shop and blog all rolled into one. Social media integration, newsletter sign up form, featured posts, shopping cart facilities and internal search engine all make this the perfect design for this type of website.
See how this site is fast becoming the premier all breed cat website – CattyLicious.com